IMMEDIATE POWERFUL RELIEF FROM SENSITIVITY UP TO 3 YEARS
Shield Force Plusis an advanced light-cured desensitizer that provides a pleasant, effective, and easy-to-use chairside solution for preventing post-restorative sensitivity and treating hypersensitive dentin. Shield Force PlussDouble Block Technologyoffers relief for up to three years.
0 Gingival Irritation
Unlike other desensitizers, Shield Force Plus doesnt contain Glutaraldehyde. The product is irritation-free, therefore no need to isolate gingival tissue.
1 Application (30s)
Treating sensitivity with Shield Force Plus is a simple, 30-second procedure: Apply, Air-dry & Light-cure. Shield Force Plus applies green, dry translucent for enhanced visibility during application. Use before any bonding procedure to improve bond strength.
2 Layers of Protection
Shield Force Pluss Double Block Technology provides two layers of protection against sensitivity: The 1st layer penetrates the dentinal tubules for immediate pain relief, while the 2nd layer forms a protective barrier on the patients dentin, protecting it from further abrasion and future sensitivity for long-term relief.
3 Years of Relief*
Thanks to the Double Block Technology, Shield Force Plus provides a powerful relief up to 3 years under conditions that simulate patients brushing their teeth even 3 times a day.
*Results may vary based on patient diet, proper oral care, and conformance to product directions. Wear data tested in vitro.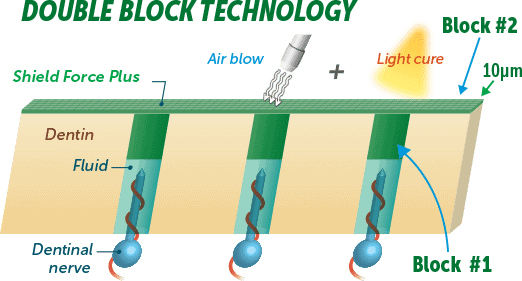 Double Block Technology in One Application
Block #1 Immediate Relief
Resin tags that permeate 50?m deep seal dentinal tubules forimmediate relief
Block #2 Long Lasting Relief
A durable 10?m thick coating over the resin tags provideslong lasting relief for up to 3 years
FEATURES & BENEFITS
Long-lasting sensitivity relief for up to 3 years
Quick and simple 30-second application
Irritation-free, no need to isolate gingival tissue
Applies green, dries translucent for enhanced visibility during application
Improves bond strength when used in conjunction with a bonding agent
Buy 1 Shield Force Plus Kit/ Refill & 1 Estelite Sigma Quick, Get 1 Estelite Sigma Quick AtNo Charge!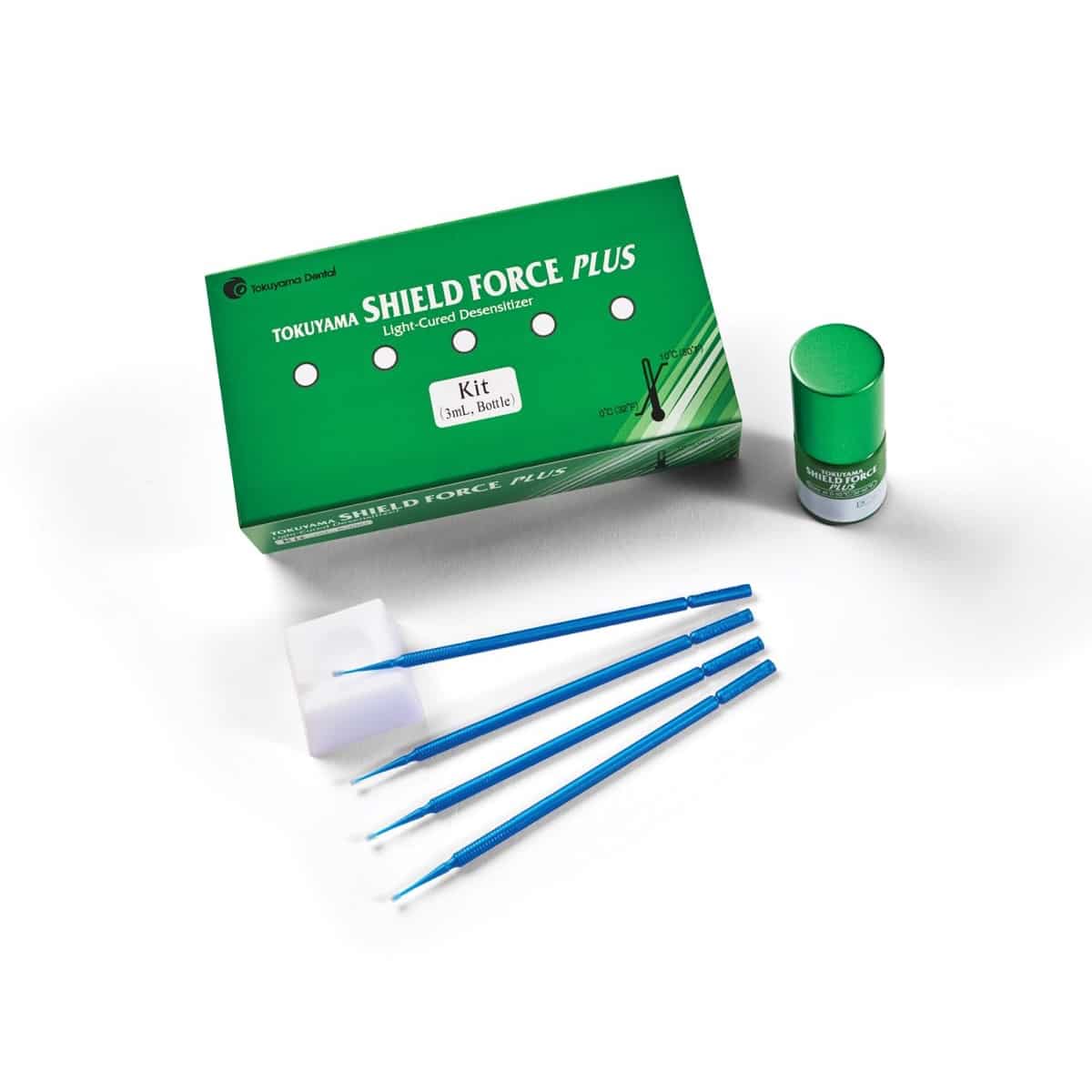 MSRP: $122.57
Content:
3mL Bottle
Disposable Superfine Applicators (x25)
Dispensing Well